Discounted Hockey Pants And Hockey Pant Equipment!
(Possible SAME DAY SHIPPING!)
info@HockeyPants.com *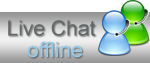 Click here for HockeyPants.com Live Chat Support
If you need to make a change to your order we encourage you to use your Email Order Receipt and reply to it with your changes. It may take us up to 24 hours for our warehouse and customer service to review your e-mail.

* If you decide to call us or email us you have Opted In for us to phone and email communicate with you.
© 1999 - 2019 HockeyPants.com | Powered by EZ eCommerce - Family Owned & Operated For Over 20 Years | All Rights Reserved
*Monday-Friday Orders Are Guaranteed To Ship In 24 Hours - Same Day Shipping For Orders Received By 2pm (PST)
Monday-Friday 8am-5pm Pacific Standard Time (PST) - Order Hockey Pant Equipment Online 24/7/365
Riverside, CA 92506 (Not A Retail Location)