Discounted Hockey Pants And Hockey Pant Equipment!
(Possible SAME DAY SHIPPING!)
Wednesday, December 02, 2009
Jackson Hole, Wyo.-When it comes to the age-old, dainty image of what it means to be feminine, Jackson Hole women have pulverized the notion.
This area's concept of womanly beauty is dictated more by the myriad roles local females slip in and out of on any given day than by appearances. Take the females of Jackson Hole Hockey for instance. Their strength stretches to each aspect of life – they are athletes, mothers, business owners, mentors and philanthropists.
They also happen to appear naked in an annual calendar.
Time has come again (a long anticipated, excitable time for some) when all the roles, all the equipment is peeled away, to reveal these women in their true, naked skin.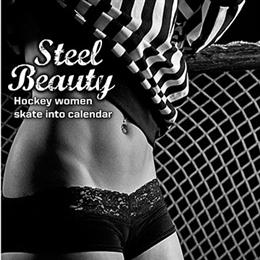 On Friday, the Jackson Hole Women's Hockey Team will celebrate the release of their well-received, provocative annual calendar at the Teton County Fair Building as a part of Lyndsay McCandless' First Friday event going mobile.
This year McCandless, who played hockey throughout school and plays tournaments with the JH women's team and weekly with the rec leaugue, also makes an appearance in the calendar, shot at the LMC gallery.
The stylish eye-candy display not only showcases the player's curvy, feminine form, often disguised by clunky padding and nondescript helmets, but also the gusto of a female valley photographer. Local shutter fly Heather Erson photographed the 2010 calendar of slick black and white figures that are decidedly not what you would expect once the gloves, pads and helmets are shed. Erson said she used all the disrobed equipment to accentuate the femininity of the players.
"I wanted to convey that each of these woman are beautiful and feminine in their own way," she said. "I was trying to contrast the graceful curves of the nude figure and smooth skin with the textured hockey elements of skates, sticks, pucks, and net."
Erson offers a mysterious perspective to portrait photography through the use of shadow and light. While too much is never revealed in any one photograph, Erson lends us just enough polished skin and soft edges; candid photos that reveal confident women who place themselves beneath the spotlight of many of life's arenas.
"All of the women I met on the hockey team encompass what I think are traits of a Jackson Hole woman: independent, confident, intelligent, athletic and sensual," Erson said. JHW
Jackson Hole Women's Hockey calendar release party, 6 p.m., Friday at the Teton County Fair Building. There will be a silent auction of unique prints followed by a performance by hip-hop, nu jazz band The Outfit and turntablist The Amorphic. Appetizers and beer and wine will be served. $5 suggested donation. Calendars will be available for $20. 413-4331.
Courtesy Jackson Hole Women's Hockey
See originial article here: http://www.planetjh.com/news/A_105616.aspx